Ghtroc Industries

Type: Manufacturing
Founded On: Year 13 Day 206
Leader: Belwarmec Al-Thorac
Recruitment Liaisons: Belwarmec Al-Thorac
IRC Chatroom: #arkanian

Join This Faction

Description:


-: About Us :-

Ghtroc Industries is a long standing Shipwright whose name is associated with quality, integrity and cutting edge design.
We are a wholly owned subsidiary of the Arkanian Engineers and form part of the Arkanian Conglomerate.


-: Membership :-

Ghtroc Industries are always looking for Sentients old and new to join our team.
We are specifically looking for Production staff to assist with keeping our factories and shipyards running at peak efficiency.

Sentients wishing to join Ghtroc Industries are encouraged to submit a join request, and requested to contact Belwarmec Al-Thorac to discuss your application. Please also feel free to peruse our recruitment advert.
You can also join us IRC Channel #arkanian, or on discord https://discord.gg/rQCx9yh.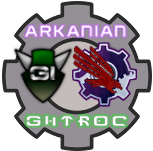 -: Data Cards and Sales :-
Please send any enquiries in regards to our Data Cards or Product Requests to Va`Li Owa, President of the Arkanian Engineers.
Please allow up to 24 to 48 hours for a reply to any enquiries.
Datacards Owned: