Good evening,
There is a discord day0 hack going around that is putting people's accounts in jeopardy. If you get a message from someone that looks like any thing depicted below, DO NOT CLICK ON THE LINK OR DOWNLOAD THE FILE.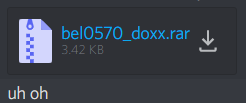 I have blurred the file name in the links so nobody can fall prey to these attacks and in case anyone would be foolish enough to click them or worse, spread them to others. I'm hearing initial reports that some members have not only their Discord accounts compromised but also that their entire system has been hijacked and demands for money have been made(AKA Ransomware).
Normally we do not make posts like this for phishing attempts, but given the severity of the attacks, we want to ensure the entire playerbase is safe. Before your account gets compromised, it's a good idea to make sure you have 2-factor authentication set up on your account, and that you have separate passwords for all your accounts. If an unauthorized individual gains access to your account and you don't have 2FA set up, change your password immediately, set up 2FA, and then go to Settings > Devices and log out all known devices. 
In addition, it's good practice to report all messages you receive of this nature, so that discord can run their own investigations. You can do this by submitting a ticket on their website: https://support.discord.com/hc/en-us/requests/new
Thank you all and stay safe out there